VISIT US AT OUR NEW STOREFRONT! 305 ELLA | BEATRICE, NE
WELCOME TO POCKETFUL OF POSIES
High quality and handmade with love: Door Hangers, Interchangeable Door Hangers + Attachments, Templates, Wood Blanks, Paint Parties and more!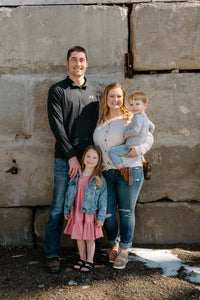 ABOUT US
Hey everyone, Maizy here! It brings me so much joy to not only create pieces for you all, but to share my love for crafting with everyone else. I've always been a DIY-er, and have slowly but surely found my passion in door hangers. In whatever I do, I am sure to put my whole heart into it. I don't intend to make a quick buck here or there. This gig keeps me sane (literally!). I find so much peace in using my imagination and letting my creative juices flow. I have a love for all colors and it shines through my work. I guarantee you'll love your goodies as much as I loved making them! To wrap things up, I always feel compelled to say THANK YOU to all of my past, current and future customers! You help me provide for my family and allow me to continue staying home teaching my kiddos passion and hard work will get you where you want to go. I love that you continue to trust in me for your homemade needs. After all, happiness IS homemade!
Pictured is the Brandon (the wood cutter), me (the painter), and our two hooligans (Olivia & Weston).
INTERCHANGEABLE DOOR HANGERS + ATTACHMENTS
Over 100 attachment designs to choose from, you're sure to find a favorite! Pair it with an Interchangeable Hanger or Porch Sign to suit your style and you won't look at a regular door hanger the same.

VISIT OUR NEW HOME GOODS COLLECTION
We're talking food, party supplies, charcuterie trays, room and linen sprays, candles, pillows, blankets and more!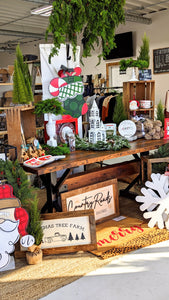 Featured Apparel
Rockin Around The Christmas Tree Tee
Vintage Trees Crewneck Sweatshirt
Oh Christmas Tree Crewneck Sweatshirt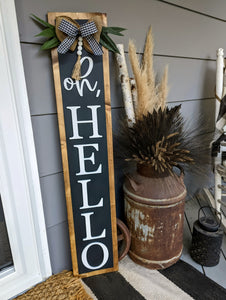 PORCH SIGNS
Who doesn't love a good porch sign? Most sign wording are drawn by hand to give your sign a real classic, handmade look. Compliment your porch and grab one in any color you wish!
We have both hand lettered pieces for the traditional handmade look and dimensional pieces. Either style is sure to make your decor pop!
JOIN OUR GIRL GANG
ATTACHMENT OF THE MONTH CLUB
If you have an interchangeable door hanger, porch or home sign, then this subscription is right up your alley. There's nothing more exciting knowing you will be receiving happy mail every month. Bonus- it's an adorable, exclusive design just for you! In addition, there are tons of perks of being in the club...cha-ching!


PAINTING WITH A POP TEMPLATE CLUB
This is theee club to join for all door hanger makers. Here's the perks in a nutshell: 4 or more new templates released every month, designs available 2 weeks before the public, 50% off all other templates, access to blanks at a 15% discount with Home Creations Milling & Signage (practically paying for itself!). Last, but not least, freebies!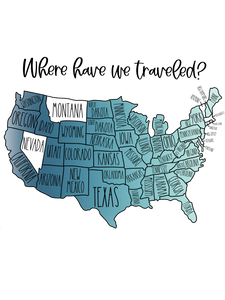 SMALL BUSINESS, BIG IMPACT
Lookie how far we've traveled! From small town Nebraska to major cities and all around the United States, it's all thanks to you! Seriously. It's a no-brainer I couldn't do this without my customers . You guys are some of my favorite people, and you share kind words about this business. If you have friends where you see a blank state, help a sister out! Let's get this whole country colored!
REVIEWS
"Love my items I've had made! Maizy is easy to work with and great turn around time!!"

Michaela B.
"I absolutely love my door hanger!!! Thank you so much!!!!!"

Dezi E.
"Love everything about this! I can show Maiz a picture of what I want and she can make it. Everything is done quick and looks great! Will continue using for future projects!"

Cassie W.
"This is super cute. We are a baseball family and this looks great on our door. Shipped fast and looks just like the picture!"

Nicole O.
"So cute!!! I love my sign. Great communication and delivery."

Maddie K.